Graduation/ Culminating Activity 2019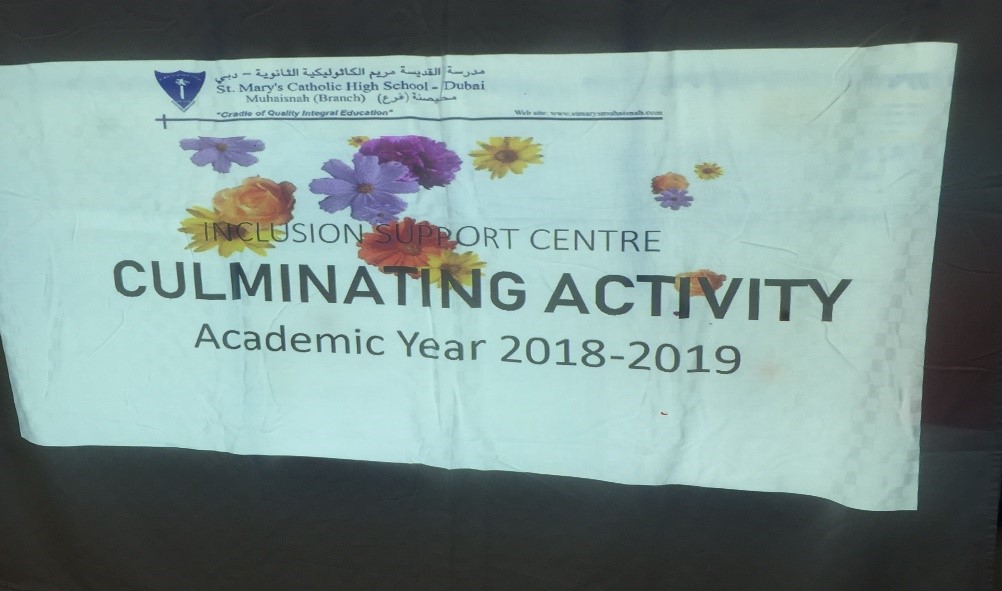 The Inclusion Support Department held the very first Graduation/ Culminating Activity on 27th of June 2019. The said activity was attended by Mr. John Turner, SMG Inclusion Governor, Sr. Tess Bayona, SPC, School Directress, Sr. Victoria Lavente, SPC, Pastoral Head, IST Department, parents and candidates for graduation. This year we have four students of determination from the Key Stage 2 who were able to graduate from the individual support. Under the academic intervention, we have Rishen Fernando 2-E, Uzziah Sotomango 3-D and Olin Botha 4-B while Herbert Kelechi 4-D is under the behavioural intervention.
To start the activity right, Olin Botha 4-B led us to prayer. Ms, Maf has introduced the invited guest followed by an opening remarks from Sr. Tess Bayona, SPC and Mr. John Turner. In her speech, Sr. Tess has emphasised the importance of the child and the necessary guidance that the parents must provide to make things happen. She said that parents should understand their child as an independent person who is capable of something as an individual and must be given respect.
Mr. John Turner on the other hand, has given recognition to the student's effort to thrive in the best way they can. He also recognised the team's hard work in extending help to all the students of determination. To end his speech, he made mention that the heart of this activity is the word PROGRESS that manifested in the lives of our dear students of determination.
After the warm opening remarks, the programme proceeded to the awarding of certificates to the all graduates. The parents delivered inspiring messages that made most of us in tears. To end the activity properly, Sr. Victoria Lavente, SPC gave her closing remarks. She highlighted the importance of preparing the hears of the students before anything else because if the heart is not ready yet then the mind will not be also ready. This also implies to the student's academic aspect that if the heart is ready enough the academic life will come easy.
She also added that when the heart is processed there is peace, calmness, acceptance and the capacity to love others. Before she ended her speech, Sr. Victoria posted a challenge to our dear students of determination to learn how to organise their things through the supervision of their parents especially this summer vacation. It was indeed a very short activity however, it was meaningful, full of love and inspiration.